At Verdant, we specialize in creating total lifestyle environments. That means creative outdoor features that bring people together on the land, because ultimately, landscape design is all about having fun on a place you love.
Regionally-specific custom detailing:
True to our Southern heritage, we favor the use of wood, brick, tabby, metal and various aggregates.  We often design with found objects such as logs, stumps or artifacts, recycled materials, and materials unique to the specific project environment. We have used:
Shell sand – glistens in the moonlight
Hardpan – a unique sedimentary rock
Eastern red cedar with bark – durable and beautiful
Savannah grey brick – a classic
River rock – mimics natural stream systems
Tabby – a historic Lowcountry twist on traditional concrete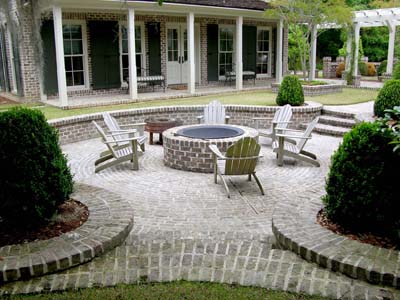 Outdoor features encourage healthy families:
We can design a range of outdoor architecture to fit your particular style and location, including:
Decks and patios
Fire pits, outdoor kitchens and grilling areas
Swimming pools
Arbors, pergolas, and trellises
Water features
Playgrounds, tree houses and forts
Nature trails and seating nodes
Bridges, benches and swings
Sheds, gazebos and outbuildings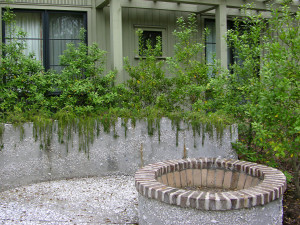 What sets Verdant apart?
Every landscape offers cues to suggest a palette of hardscape materials and our team is ever alert to these site-specific opportunities.
We emphasize readily available materials such as yellow pine and seek local suppliers, per LEED® standards. We also ensure that our suppliers and specialty contractors produce the quality and workmanship that our discriminating clients have come to expect.
The result is hardscapes and outdoor features that are visually integrated into their surroundings and responsive to the unique personal lifestyles of our clientele.